Why is tech giant Foxconn very positive about Dholera?
The economic tailwind is taking a paradigm shift, and nations like India are witnessing a new dawn. All eyes are on India, and expectations are mounting. The evidence is so pervasive that it is hard to go unnoticed. At least that is what most of the global leaders and speakers believe. The most recent addition to the list is Taiwan's largest electronics manufacturer, Foxconn's Chairman, Young Liu. The tech giant eyes the Indian market and is overwhelmed with the prospects, which are huge opportunities.
Liu adds that it took him 30 years to build the entire supply chain in China, whereas a lesser amount of time will be required in India. His statement is an advocacy for the Make in India and Production-Linked Incentives (PLI) initiatives of the Indian Government and holds investment opportunities for tech-based manufacturing companies as well as infrastructural development companies alike. Similar to Foxconn, HP, Dell, Lenovo, and 40 other IT hardware manufacturing companies have applied for PLI. The Indian arm of Foxconn has already crossed a turnover threshold of close to USD 10 billion on an annual basis.
Since Dholera, the prominent region of Gujrat, is emerging as a potential manufacturing hub and home to various chip-based industries (semiconductors), investment in this location is gaining popularity with an assured return and high yield for investors. The construction of Dholera International Airport and the Greenfield Expressway is expected to be completed by 2024. like giant IT solution giants like CISCO and IBM, are already roped in to contribute to the development of world-class smart cities. All these portray a rosy picture of Dholera and project a great investment opportunity.
Source:- Times of India, 7th Sep, 2023.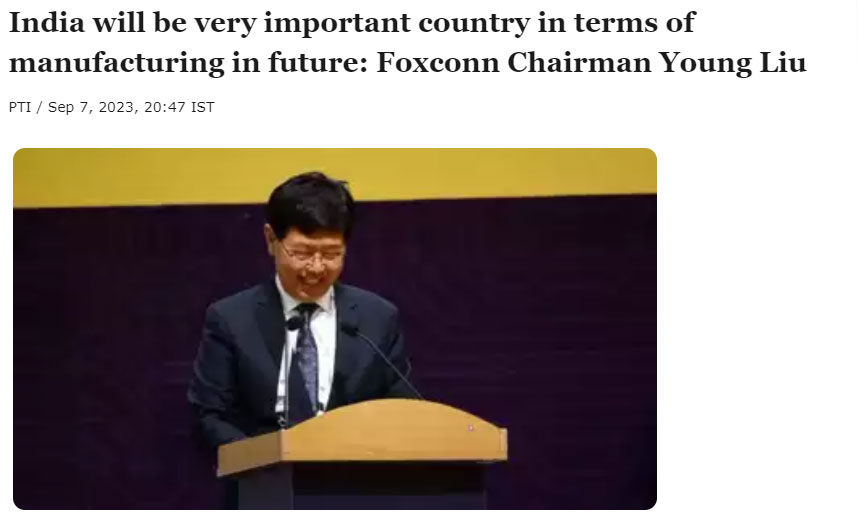 India's growth trajectory is a new hope for property investment. (in context of ADB's president's recent statement)
In a recent edition, ADB president Masatugu Asakawa shared his views on the development of the Indian economy and trusted its growth in the coming years. This news blog is important from various perspectives, as India is the only country where demographic dividends post strong domestic demand and ward off the effects of the global slowdown. The global demand is expected to be weaker than the previous year, and no further respite can be expected by the year 2024. However, the first half of the growth of developed nations like the US and Japan might surprise most of us, but we need to understand that the initiative of interest rate hikes by the US Federal Reserve and European banks is fueling it. The growth of Asian and Pacific regions is supposed to be close to 5% this year and next year.
Moreover, the collapse of China's property market is a clear sign of headwinds due to the domestic real estate sector and weaker global demand. Worries loom over as exporters from China are concerned over the property-induced slowdown. In the Indian context, such things can be very advantageous to enter into a new trajectory and act as a tailwind to become a $5 trillion economy at a faster pace. However, to maintain fast-paced economic growth, the role of private investment and multilateral development banks (MDBs) will be the most desired phenomena. The Indian government's infrastructure development and ease of doing business initiatives are not only raising the bar for quality services but also ensuring a positive developmental change. In light of the above-mentioned criterion, it becomes imperative to gain insight into the global economic phenomenon and park our investment in growth-driven economies and sectors like real estate, which is poised to contribute to the growth trajectory of the Indian economy.
Source: Times of India, 8th September, 2023.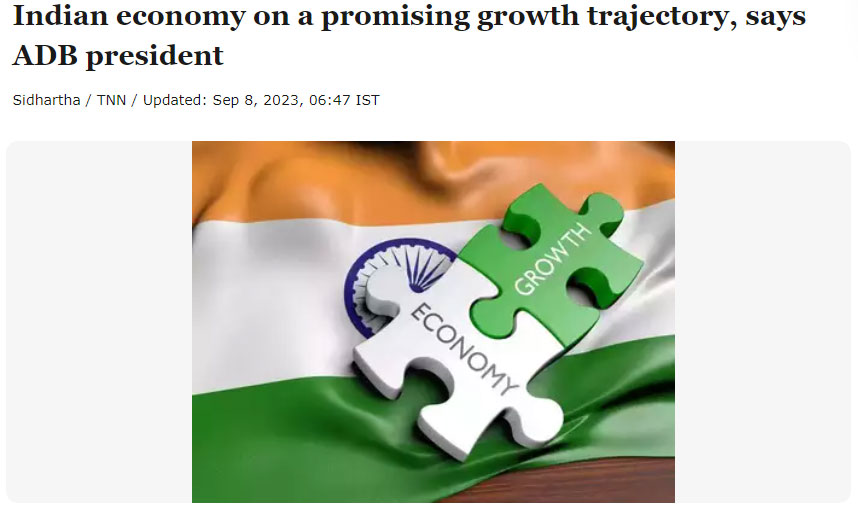 Uttar Pradesh outpaces Maharashtra, ranked No. 1 in attracting funds from banks and financial institutions.
Those days are numbered when U.P. was considered one of the slow-paced and tagged BIMARU states. Despite being a prominent political and cultural state, it is evident that growth is sluggish due to poor infrastructure and administration. However, those are gone things. A recent bulletin of India's central bank confirms that U.P. is among the states that attract funds for projects from banks and financial institutions. Moreover, the report further explains that the state has secured the first position to attract funds for 2022–23. All thanks to the excellent administration and commitment of chief minister Sh. Yogi Aditynath ji for turning around the picture of the state. The report illustrates a great leap of 20% in GSDP in 2021–22. Compared to 2020–21, the GSDP was recorded at Rs. 16, 45,317 crore, which increased to Rs. 19, 74,532 crore in 2021–22. Besides, multi-dimensional poverty is also estimated to decline in the state at a faster pace among the 36 states and Union territories.
Source:- The Times Of India 20th August, 2023.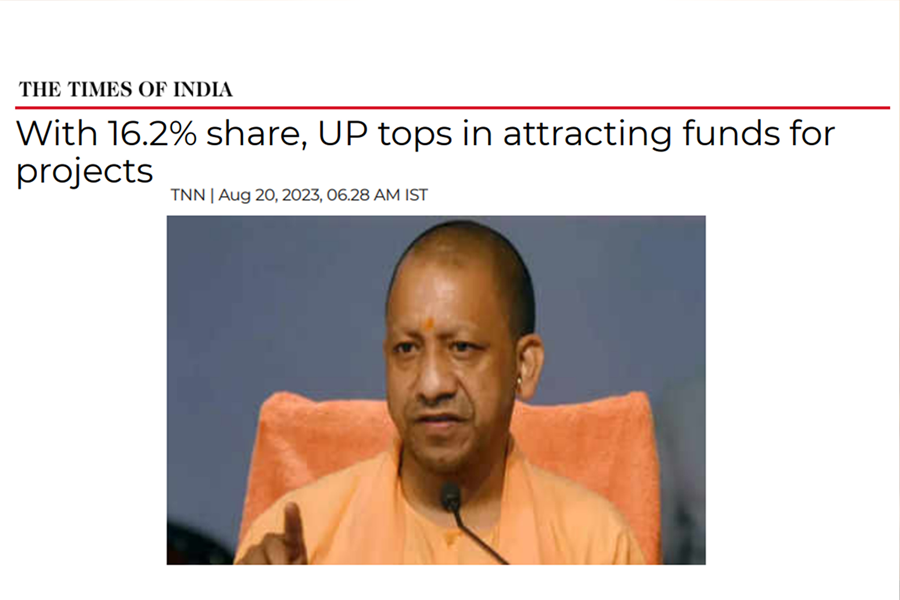 Indian real estate likely to reach $6 trillion by 2047: Report
The recent report of real estate consultant Knight Frank in association with the National Real Estate Development Council (NAREDCO) states that the Indian real estate sector is likely to touch the benchmark of $5.8 trillion by 2047.
The projection for 2023 indicates PE investment in Indian real estate is poised to reach $5.6 billion, reflecting year-on-year growth of 5.3%. The current value of real estate is estimated to be around $477 billion, contributing 7.3% of total economic output. By 2047, it will be 15.5% of the total economic output.
Source:- The Times Of India 20th August, 2023.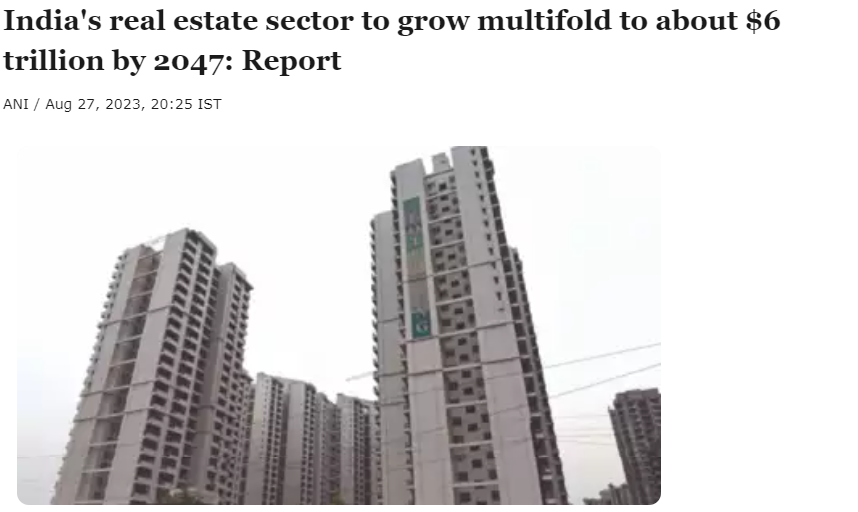 RAV organizes meet to woo the investors, receives a positive response.
RAV Group's recent investment meeting received a positive response from the investors. Bags award the Mercedes GLS for best sales performance to Mr. Tarun.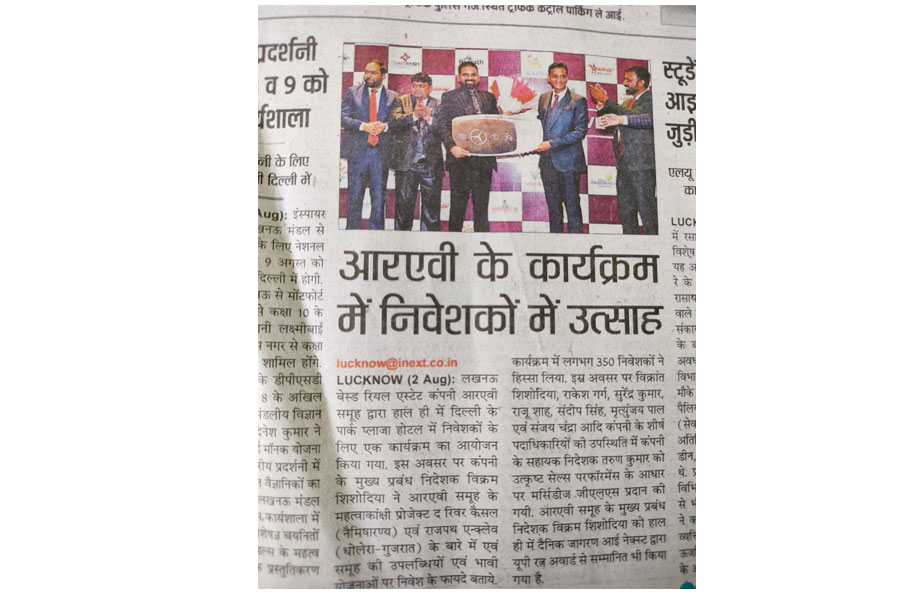 Media coverage of the U.P. Ratan award
ceremony.
RAV Group shares glimpses of the ceremony for the prestigious
U.P. Ratan Award.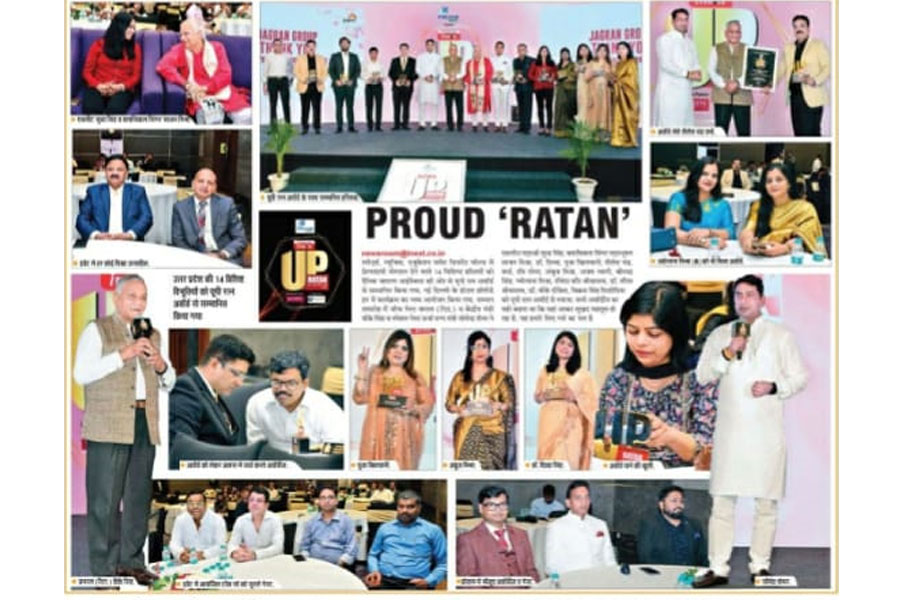 "Try and fail, but never fail to try." CMD RAV Group speaks to the heart.
A sportsman, businessman, and lifestyle coach, Mr. Vikram Shishodia shared his thoughts on what keeps him motivated.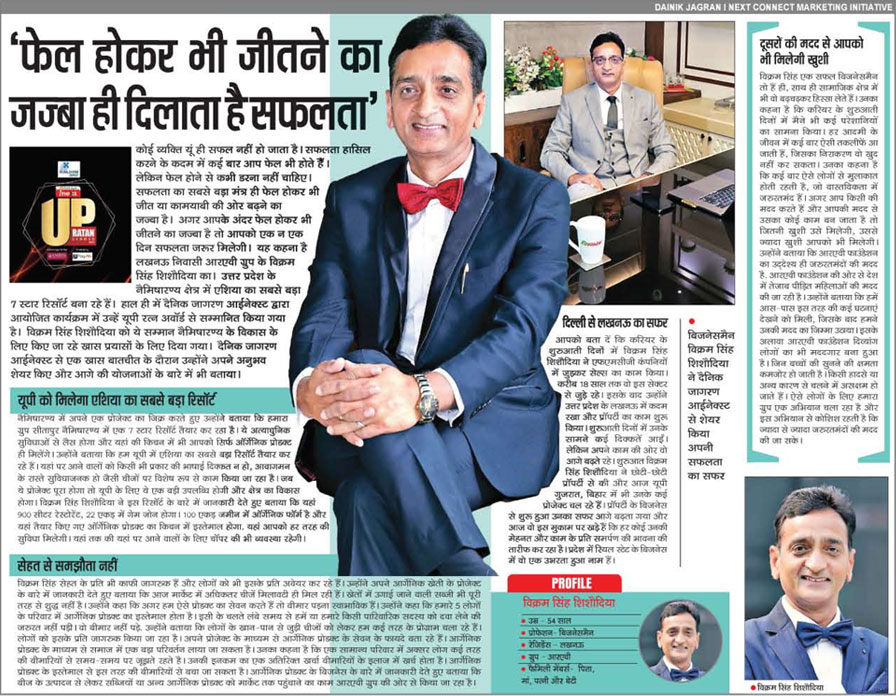 RAV GROUP CMD VIKRAM SHISHODIA'S INCREDIBLE SUCCESS STORY | VIKRAM SHISHODIA INTERVIEW | CNBC AWAAZ
In this inspiring interview, Vikram Shishodia, the Founder of RAV Group, shares his journey from humble beginnings to becoming one of the most successful entrepreneurs in India. He talks about the challenges he faced and how he overcame them, his business philosophy, and the key factors behind his success.
Vikram Shishodia, CMD of RAV Group, receives the UP Ratan Award
RAV Group's CMD received the Up Ratan award organized by i-next Media for the development of Naimisharanya.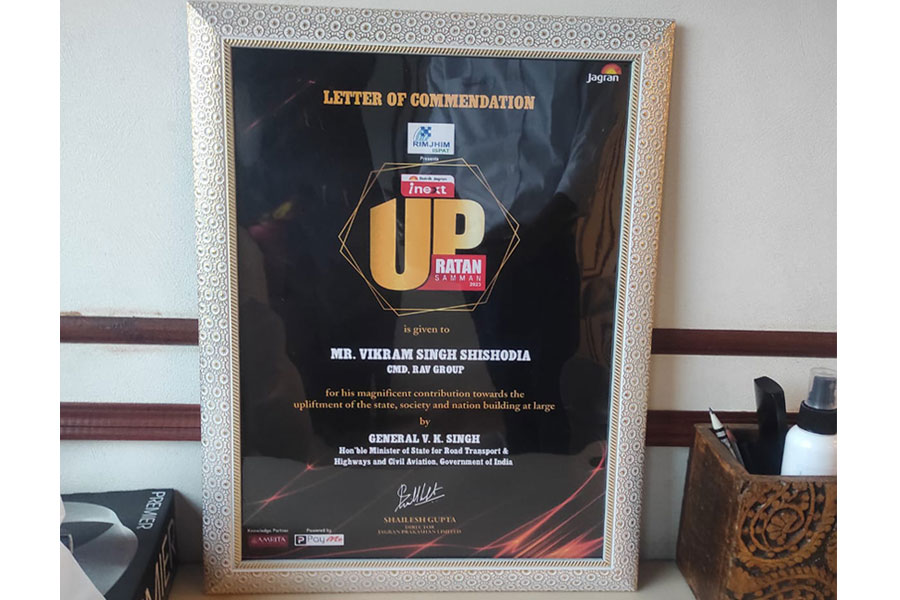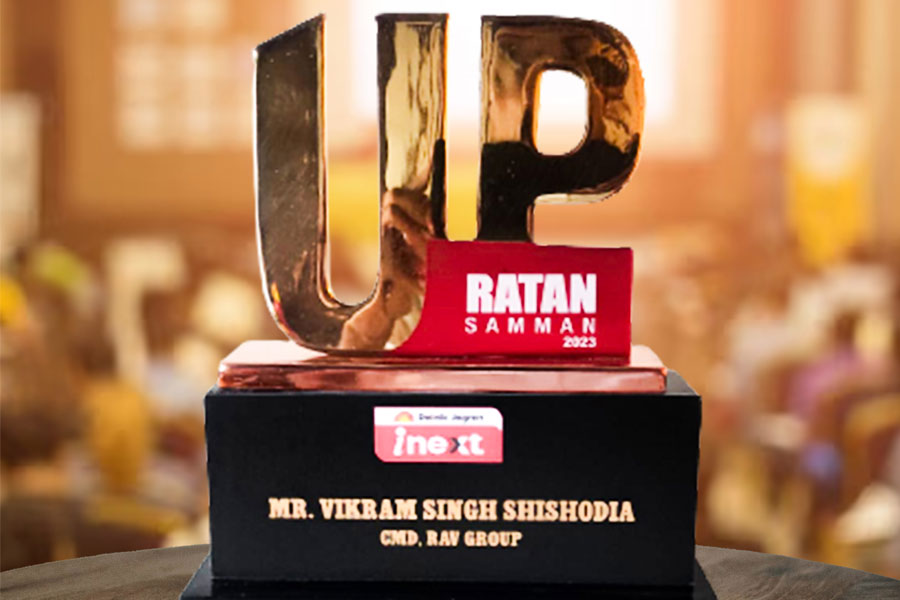 RAV CMD wins the laurel in the UP Health conclave.
Mr. Vikram Shishodia won the laurel bagged by India News in the UP Health Conclave.